Join the Campaign to Upgrade Crondall Broadband and Check Your Current Speed
If you are based in Crondall then currently our local exchange (in the Handcroft Close area) is capped at a maximum speed of 8mb /sec. However it's rare that we actually achieve this, and if you live more than 1km from it then your speed will likely drop away (see the graph below). However with your help we can upgrade the village to 20mb / sec .
.
Join the Campaign to Upgrade Crondall Broadband to 20mbs
Hampshire County Council and its partners are progressing their plans with Broadband Delivery UK (BDUK) to access government funding for faster broadband in those parts of Hampshire that have poor internet access. Communities in Hampshire, like Crondall are encouraged to continue registering their support as those areas that register strong demand for faster broadband are likely to be included in the earlier stages of the phased rollout programme.
Please note, registering demand does not commit you to sign up to any new service. So please, if you live in Crondall, don't delay register your support by completing the online form or call 01329 225398.
.
You can test the speed your connection is currently acheiving using the handy tool below. If the speed is down, run it a couple of times to be sure it's not just an anomaly. If it still runs low then I recommend you then run the official BT speedtester as the results from this site are officially logged and fed back to both BT and the ISP and used to monitor the overall state of the connection. If poor results are reported by sufficient people then we stand a chance of action being taken to upgrade the exchange earlier. The latest speed results for the local Crondall area are available on this broadband adsl speed graph
And even if you are not based in Crondall then you can still use both these tools to see how your speed compares to the one your ISP says you should be getting.
If you are not happy with the results then you could try using some of these special bits of software which will optimise your internet connection and also check your PC settings - just click on the banner below or go here or here for an alternative product called Turbo My PC
or worst case go here to see if there are some better deals around than from your current ISP. One of the deals we like at the moment is from Plusnet
.
What Is Broadband?
Broadband or high-speed Internet access allows users to access the Internet and Internet-related services at significantly higher speeds than those available through "dial-up" Internet access services. Broadband speeds vary significantly depending on the particular type and level of service ordered and may range from as low as 200 kilobits per second (kbps), or 200,000 bits per second, to six megabits per second (Mbps), or 6,000,000 bits per second. Some recent offerings even include 50 to 100 Mbps. Broadband services for residential consumers typically provide faster downstream speeds (from the Internet to your computer) than upstream speeds (from your computer to the Internet).
How Does Broadband Work?
Broadband allows users to access information via the Internet using one of several high-speed transmission technologies. Transmission is digital, meaning that text, images, and sound are all transmitted as "bits" of data. The transmission technologies that make broadband possible move these bits much more quickly than traditional telephone or wireless connections, including traditional dial-up Internet access connections.
Once you have a broadband connection to your home or business, devices such as computers can be attached to this broadband connection by existing electrical or telephone wiring, coaxial cable or wireless devices.
Why does my ADSL broadband speed depend on the distance from the exchange?
Unlike cable broadband connections ADSL broadband is a technology that is distance sensitive. The graph below shows you how quickly the speed can drop as you move away from the exchange.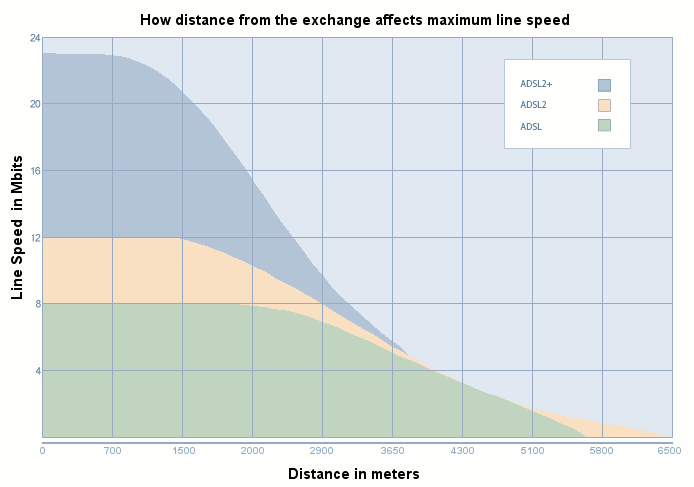 As you know from using a landline sometimes you hear cracking and noises on the line, the same noise affects ADSL broadband as well and in effect slows down the connection. Voice connections use a wide array of voice amplifiers and loading coils to improve the call quality, unfortunately these are not compatible with ADSL connections. There are devices that improve broadband signal quality and reduce noise - these are called micro-filters, the most common one is BT iPlate which has been developed by BT and has been proven by many consumers that it can speed up your ADSL connection. Sometimes you can get a boost by installing special bits of software.